Interview with Beth Holmberg
SY Instructor
---
Joining our stellar roster of Blacksmithing Instructors, Beth Holmberg is a Maine-based Artist-Blacksmith's Association of North America-certified Journeyman with over 20 years of experience in the forge. Holmberg will begin teaching in October with two one-day workshops: Forging for Charcuterie, & Forging a Churchkey-Style Bottle Opener.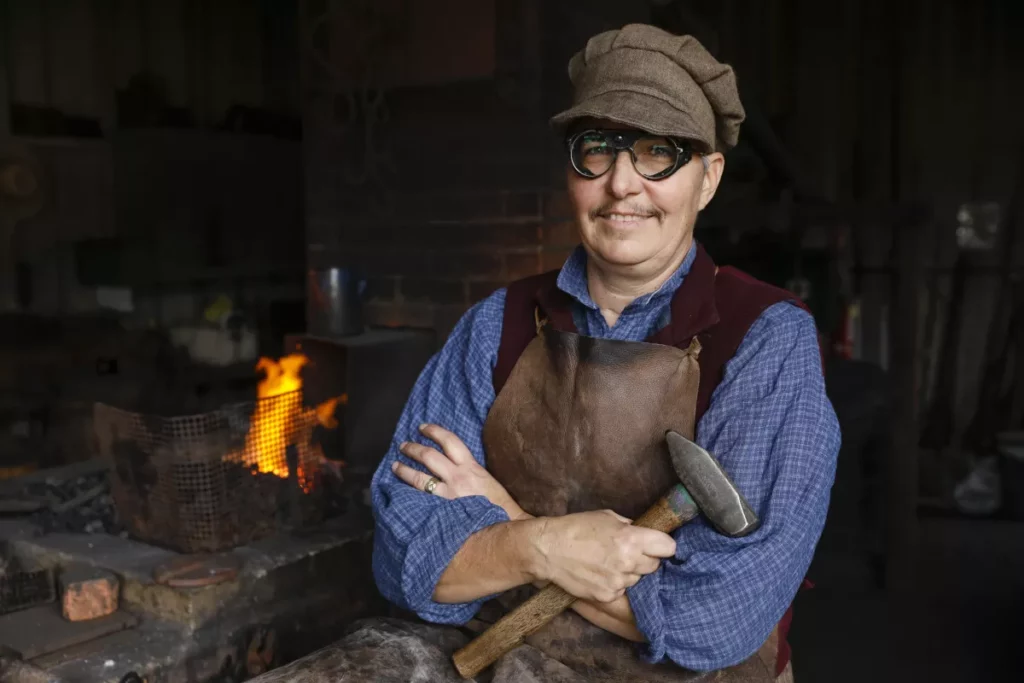 The Steel Yard (SY): HI! Could you tell us a little bit about yourself? What pronouns do you use?
Beth Holmberg (BH): My pronouns are she/her/hers.
SY: Where are you from?
BH: I recently moved from San Diego to Maine! But I grew up in the Boston area, and lived in Providence for 5 years.
SY: What have you been working on?
BH: Last year, it was my Journeyman exam project. Recently, I did a set of coat hooks based on designs found on Conestoga wagon hardware for a woman whose family migrated on the Oregon Trail in the 1840s.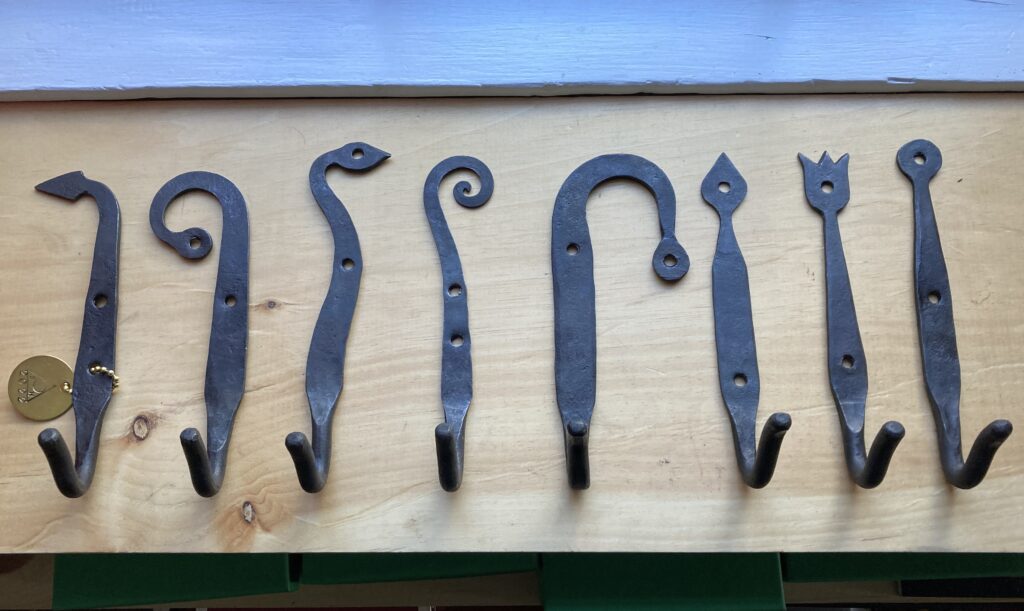 SY: Who are your greatest inspirations? What work influences your work?
BH: I like clean forgings that are distinctly 'blacksmithly', and reflect the unique plasticity of hot iron. Inspirations include Monica Coyne, Shawn Lovell, Daniel Miller, and Peter Ross.
SY: Do you show your work? Where can people see it/ buy it/ experience
BH: Some of it has been published in "California Blacksmith." Otherwise, it tends to be functional, and resides in peoples kitchens, workshops, and homes.
SY: Can you tell us a little bit about your artistic practice?
BH: The commonality in the work I most enjoy is that it all things that will be handled. Cooking utensils, hand tools, literal (door) handles, magic wands. The contact and use is what brings the iron to life.
SY: How did you find The Steel Yard? Why did you want to teach here?
BH: I volunteered to be a mentor through the Society of Inclusive Blacksmiths. My mentee, Elsa Hoffman, was a resident at Steel Yard! I love the inclusive attitude and outreach to diverse youth. And I just like being a part of providing folks with a chance to improve as a smith.
SY: When you're not instructing- what do you do in your free time?
BH: Hiking, paddling, cooking, and making stuff (even out of non-metallic materials!).
SY: What are you MOST excited for this upcoming year?
BH: Settling in to our new place in Maine, and getting to know the blacksmithing community in New England.
OKAY, TIME FOR RAPID FIRE QUESTIONS!
Go to karaoke/ sing in the car song?
Oh, dang. I mostly listen to Terry Pratchett audiobooks in the car…
Got any pets, plants, or sea monkeys
No! We can't keep houseplants alive.
Apples or pumpkins?
Both! Sautéed in butter with a pinch of sage…
Any exciting fall plans now that summer is on its way out?
Heading to Norway and Denmark ( and hoping to see smithing friends there).
Annnnnnnd finally, is there anything else you'd like the Yardie community to know about you?
Only that I love to teach!