Interview with Everett Abitbol
SY Board Member
---
Everett is a Providence-based business owner who has been involved with The Yard since 2018. Everett is one of the leading forces over at the Dye House, a boutique hotel and event space in the Olneyville section of Providence, Rhode Island offering a unique, thoughtfully-curated guest experience, designed for a diverse set of occasions and gatherings. Everett accepted the role of SY Board Member this year, and we wanted to provide a chance for everyone to get to know one of the faces that help things run smoothly over at the yard.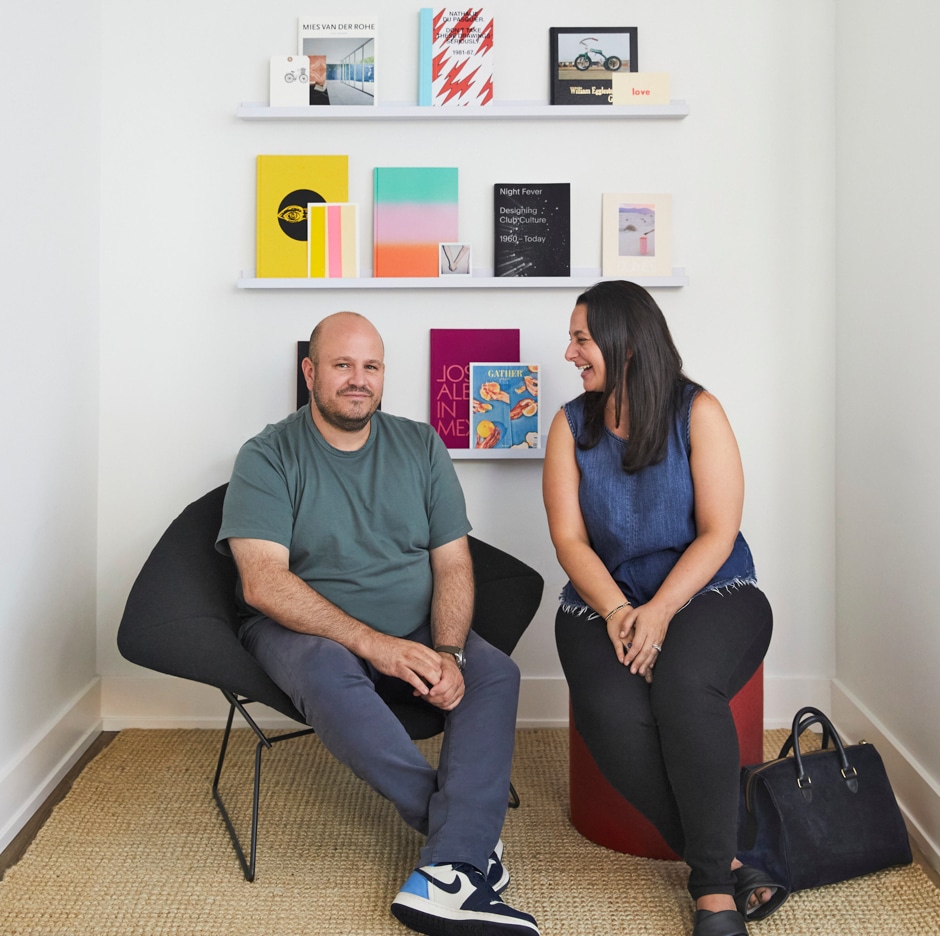 The Steel Yard (SY): What is your name, and how long have you been involved with The Steel Yard?
Everett Abitbol (EA): My name is Everett Abitbol, I became an admirer first in 2018, then a customer when we commissioned bike racks for the Dye House in 2020 and now a board member in 2022
SY: What is your relationship to the Providence area, and what initially brought you to the SY?
EA: My wife and I met in Rhode Island almost 20 years ago, but have always spent a good amount of time each year here visiting family and exploring the city. It was through a friend in Philly who was apart of the Clay Studio that i initially found out about The Steel Yard and visited in 2018
SY: Outside of being a board member here at the yard, what passions or responsibilities fill the rest of your time?
EA: I have two young kids: Noah (7) and Phoebe (4), so most of my time is with them or thinking about them and do feel that my family is certainly a passion of mine. The second most time consuming part of my life that I am almost equally passionate about is our business, a small hospitality company with a tiny hotel and event space just down the block from the Steel Yard called Dye House.
SY: How is the SY's emphasis on the analogue/ process of creation reflected in your own life? Do you have outlets that allow you to explore your own relationship with making and creating?
EA: Much of what the SY does to nurture the analogue process and encourage creative works is what we have embraced in our business and personal lives. We really love the process of making things and making relationships.
SY: Being a board member means to be involved with the organization at a very specific level. Are there any other ways in which you want to be involved with the organization? Taking classes, attending volunteer days, facilitating events, or even just being out on the yard to soak up some sun?
EA: Well, I already use the Yard for all of my walk and talks with friends, family and colleagues… its a pretty inspiring place. But my goal in 2022 is to take a few classes!
SY: What role do you think the SY has in preserving the creative atmosphere of Providence?
EA: The SY plays a significant role and I hope to see it continue to grow as I think more and more people are finding themselves through these types of outlets. Its hard to find places these days in cities to make a mess, or what I love to call Dirty Work space and what SY provides thats so important is the space and capacity to nurture creatives.
SY: What do you want the legacy of the SY to be?
EA: A community asset that leaves an imprint on neighbors and visitors that we are a place of creativity and more importantly a place that welcomes all.
SY: What is one aspect of the SY that you are excited to see further develop?
EA: Its engagement with the youth in Providence and its expansion of classes!
SY: Recently we've had some beautiful public amenities installed at places like Rocky Point in Warwick, and the Woonasquatucket River Greenway here in Providence. What sort of amenities or projects do you want to see more of out in the state?
EA: We need more public art! I personally love work that is playful and engages children!
NOW FOR SOME NON-JOB RELATED STUFF!
Favorite way to beat the heat?
A dip in the bay always does the trick, honestly.
What song do you know all the words to, whether or not you sing it out loud in your car?
"Triumph" by WuTang Clan… and to be honest, "Let it Go" from Frozen.
What entertainment has been holding your attention lately?
"Home" on Apple +… The Theaster Gates episode especially!
What food / drink do you feel especially embodies summer?
Del's Lemonade, hands down!
No context. Hashbrowns or homefries?
Both. Always both.