Interview with Spocka Summa
current COMMUNITY ENGAGEMENT coordinator
---
Spocka Summa (he/him) is a musician – visual artist – event coordinator living in Providence, RI . He's the mind behind the ANTI ROBOT CLUB, a local events organization dedicated to the advancement of mankind through a series of social gatherings & creative campaigns. I sat down with Spocka and discussed his involvement in the Providence creative events scene, and the forces that drive him to create supportive community networks.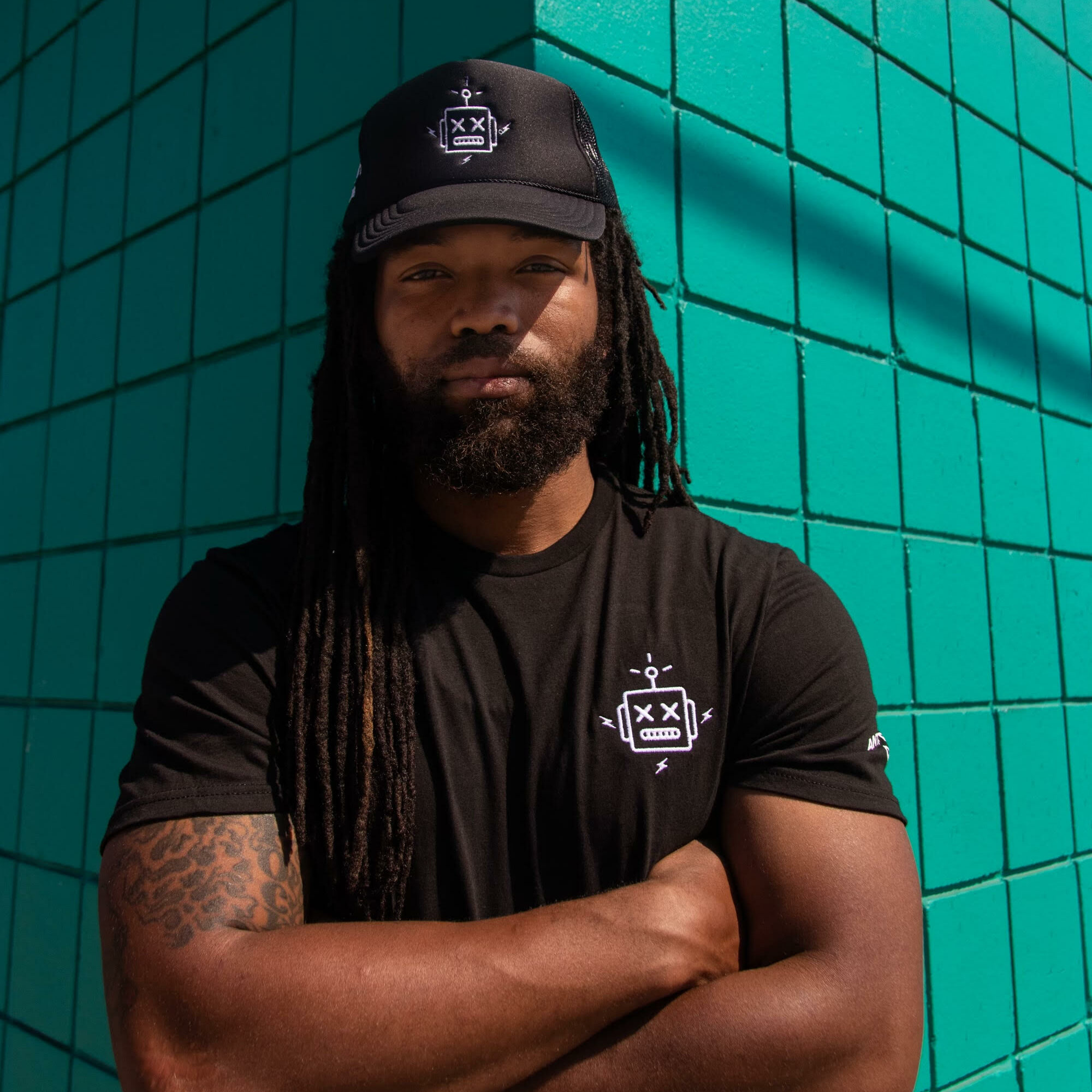 Asaad Miller: To jump into things, what is your title here at the Steel Yard and when did you start?
Spocka Summa: Yeah, my title is Community Engagement Coordinator, and I started in April 2022.
AM: So you're a recent addition! As far as you understand it, what does your position entail?
SS: My understanding of the position is that I am communicating with various organizations and individuals that make requests to use the space here at the Steel Yard: everything from family or community oriented events to more commercial events. I check through the submissions and bring in people and groups that we feel align with the space. I really have to consider who fits our mission and what capacity we have to support them.
AM: What were you doing before joining us at the Steel Yard? How did those previous roles affect how you approached this position?
SS: Well, I was and currently am a visual artist and musician, in addition to being an event coordinator here in Providence. So I'm still doing what I was doing before the Steel Yard. As for how those roles affected my approach to this position, it's honestly one in the same. This job is in perfect alignment with what I'm doing already. The transition was pretty fluid and seamless.
AM: In regards to your general capacity, you seem to always be making moves and involved in happenings across the city. You're basically running at high speed! Where do you find that spark – that drive – to be as involved as you are?
SS: My drive comes from the curiosity thats inherent in, and necessary for, creating, and wanting to see how my creations are received and processed by audiences. I like to create consistently and regularly, so being able to view the response of the people who take in my creations feels very helpful and fulfilling. As a Black artist, Ive always been thinking about the lack of resources that are available for artists; a lot of the things I do are to fill those voids that I notice.
AM: That's very much relatable. What was the push that got you into organizing and hosting events?
SS: Like I mentioned, that push or that drive is born out of not having the resources I needed when I was getting established. Realizing that if I didnt have what I needed, there were almost definitely other makers and creators in my exact position. I would like to think that I'm a good pick to help increase access to creative resources through events and potentials for networking.
AM: One of your creations is the ANTI ROBOT CLUB, which most people have almost definitely seen or heard of, in passing at the very least. What was the inspiration behind ANTI ROBOT CLUB? Do you see any parallels between the ethos of ARC and that of the Steel Yard?
SS: ARC is the idea of encouraging people to not automate what they make and how they interact with people. I don't want people to lose sight of creating with your hands and being involved with that process of trial–error; I want people to get involved. As we live in a world filled with technology and cant truly separate ourselves from it, I want to emphasize a mix of both tech and analogue processes. It's always good to get your hands dirty, and I feel creatives shouldn't lose sight of that. So in regards to any parallels, I feel that ARC directly aligns with the Steel Yard and their emphasis on industrial arts and making things tangible. That's what it's about in a workshop: touching clay, working metals, using tools to form and create. That's what ARC is about: creating physical space for people to build and interact, and not just behind a screen. ARC is meant to be an opportunity to give voice to our own systems of how we create, that aren't part of the monoculture as it exists.
AM: What do you want to see this position become? What mark do you want to put on the Steel Yard and its culture?
SS: I want to see this role become a means of providing accessible space to the artists and creatives that often have to do without in the community. I wanna see the Yard become even more welcoming space to individuals that need space, resources, and networks. Even if someone just wants to sit on the grass and write for the day, I want it to be a space for opportunity and potential!
NOW FOR SOME NON-JOB RELATED STUFF!
Any books you've been enjoying lately?
Yeah! I just picked up The Memory Police, by Yōko Ogawa. It's basically centering around a dystopian world where they regulate the way people think. Its a follow-up to my reading of 1984. Ive been really into the dystopia and steampunk elements in stories like these. A lot of it feels topical.
Favorite beach in Rhode Island?
I *just* became a beach person, actually, so I dont have a particular favorite. I just follow my wife's lead on which beach to go to.
Favorite Movies?
Some of my favorites are A Beautiful Mind, The Magician, and The Game. Oh! Cant forget Mr. Brooks either.
Excited for baby number 2?
Oh 100%. I got some things figured out from the first one, but honestly? You can only plan so much.
No context: Bowl or Plate?
Definitely bowl. Makes things easier to eat! Whatever you wanna do on a plate, you can easily do on a bowl. They're versatile, and I love a wide, low bowl. They're just straight to the point.