Interview with Asaad Miller
current communications manager
---
Asaad Miller (they/them) is a designer living on the West End . They've spent the last few years doing design work in Providence, in both a freelance context and for places like Roger Williams Park Zoo and Trinity Repertory Theater. They are a part of the queer print collective, Binch Press, and involved with organizing the Queer-Trans Zine fest (QTZ), which is happening late summer 2022!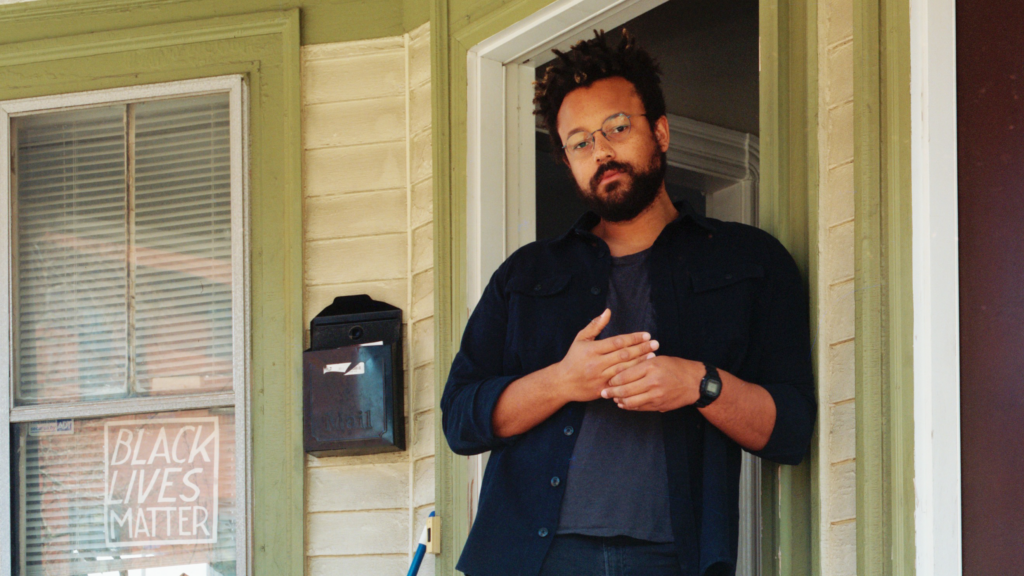 Lucia Pearl: Hi! So, tell me, what is your title here & when did you start?
Asaad Miller: Hi! My title is Communications Manager and I started late February 2022.
LP: How have you been enjoying it so far?
AM: It's been great! I work with really cool and earnest people, and it really comes through how invested people are here. To be a part of that is inspiring & engaging in a way that other roles I've had in the past haven't been. I'm learning most of the time, but not in an overwhelming way.
LP: That's awesome, and I agree! What does your work here entail? And in what other ways is this position different from others you've had before?
AM: I'm helping create the touch points for the external community to interact with the Steel Yard. I'm using social media in new ways, I'm doing email blasts, and writing newsletters. I'm helping create and draft language for what we want to put forward. A lot of what I've done before has been more design/graphic design oriented, in addition to fabrication and woodworking. At Roger Williams Park Zoo, I was graphic designer but that also entailed fabricating all of the signage, mounting systems and substrates that those graphics required required. For instance, if a 9' deep post hole needed to be dug, I'd dig that hole, and cut the post, and mount the sign.
LP: Whoa, that's a lot. Did you like that? Did you have a team to help you??
AM: It was just the lead graphic designer and myself–but yeah, I do like working with my hands quite a lot. I had woodworking and building experience prior to this, so it was nice to be able to use and build-out all of those skills.
LP: That's great. Does this new role have you tapping into a different skill set?
AM: Oh yeah, this position is more mental than physical… it feels like I'm the actual voice of the space. In wanting to take on more "birds-eye" work, accepting this position really felt like the next logical step for me. I'm doing something pretty new, but that draws on a lot of my past experiences.
LP: Has it been easy to adapt to the culture and voice that has been established here already? Does it seem to be changing?
AM: Yeah, it's been easy to adapt to the voice and image and operation of the Steel Yard, partly because I know people who work here and that brings with it a sense of trust–or an assumption that these people I value put their time into this thing, so It's got to be a good place. The love for process comes through here, whether its ceramics, metals, etc., and that's easy to tap into. It's not difficult to have that be my frame of reference.
My perception of the Steel Yard beforehand was that it hosted events, but it was otherwise a little hard to access– while the Steel Yard seems to be shifting towards the better, it's historically been difficult in general to find access to creative resources in this city. With that precedent being what it was, it's been reassuring to see my perspective shifting now that I'm on the inside of the organization. I now have a first-hand experience with the emphasis on scholarships and the funding opportunities that make those scholarships possible. Additionally, the opportunity to branch out to neighbors and community members and bring them into the fold, having our circle of knowledge and experience continue to expand is something that I really want to be a part of. That goal feels really good and ascertainable.
LP: Yeah, I love workforce training because it not only brings new people into our community, but introduces the industrial arts to people who may have never even thought about it. We need to do more of that.
So, what are you most excited about in your new role?
AM: I'm excited to really flesh out & define the art markets, along with Spocka, who's our Events Coordinator. He seems really excited about making this something that can shine, so to be able to support and supplement that feels good. Its exciting to provide new definition to aspects of the Steel Yard that I feel can really intrigue people.
LP: Yeah, those are great opportunities to bring people in. What do you think your role will be in planning events?
AM: I imagine it will mostly be interfacing with artists or tablers, or other organizations who want to use the space or collaborate on fun projects. Also making sure it's well documented and shared with our network and people we share space with. I'm excited to flex my social media voice to get more interaction and spark some excitement.
NOW FOR SOME NON-JOB RELATED STUFF!
LP: I know you do a lot of cooking.. like that lasagna I was lucky enough to experience that one time. What's your favorite thing to make? Cooking or baking?
AM: I suppose you could say I like to cook more than I like to bake. Baking feels a little more precise, while (personally) cooking can feel more flexible. As for my favorite thing to make, I love a good rice bowl. It can be as simple or complex as you want to make it, and its always satisfying.
LP: Ooh, what do you put in your rice bowl?
AM: Pickled veggies (daikon, radish, carrots) scallions, protein (chicken, egg, grilled fish). Add some Kewpie mayo (it's a Japanese mayo that's a little sweeter because of added apple cider/ rice vinegar), chili crisp, and liquid aminos also makes a regular appearance! My grandma put me onto Bragg's when I was really young haha.
LP: Speaking of your upbringing, where are you from?
AM: I'm from Compton, CA. Born and raised all the way through high school. Then when it came time for college I went to Bates College in Maine; after Maine I made my way to Providence.
LP: What brought you here?
AM: Essentially, I knew people who were either from or living in Providence. Immediately after college, I gave living here a try a try, tried to find work, went back to CA, then eventually came back to Providence and tried to make it work again. I got some foothold positions, and started to meet the people who would become essential to my Providence experience. I found a sense of belonging. I have people here who see me in ways that most don't.
LP: What's your favorite thing about being in RI?
AM: I like how close together everything is. I like that the beaches aren't that far away. Summertime is great, fall here is lovely, and even though wintertime can overstay it's welcome, there are parts of it that are really lovely. I think Providence specifically is nuclear enough that when intense snow does happen, everyone understands that things are going to be moving slower. People take their foot off the gas.
LP: What have you been listening to lately?
AM: Music-wise, I've been listening to a lot of.. hmm.. how do I describe… think late 80s, early 90s Japanese jazzy city pop? The person that immediately comes to mind is Taeko Onuki and her album Mignonne is really good.
LP: How does it make you feel?
AM: It makes me feel like I'm driving around on a late summer afternoon and the sun hasn't gone down yet, but lights are starting to come on, so things seem illuminated in a very specific way. Things feel light and airy and soulful in a very specific way.
LP: OK, I'm going to ask you one more question, and it's going to be very open-ended: Rika. It's actually not a question at all.
AM: Ah, yes, Paprika– I also call her Rika (not parsley or pepper). She's great: she's a year and 4 months, a blue heeler, and she's got expressive eyebrows along with a raccoon tail. She's also been loving the Steel Yard—lots of dog friends to hang out with and say hello to, and plenty of folks that let her jump up on them. In a couple days we'll be celebrating her adoptaversary! I'm thinking I might give her a burger or something and completely blow her mind.