MEET REBECCA HO
2020-2021 RESIDENT ARTIST: CERAMICS
---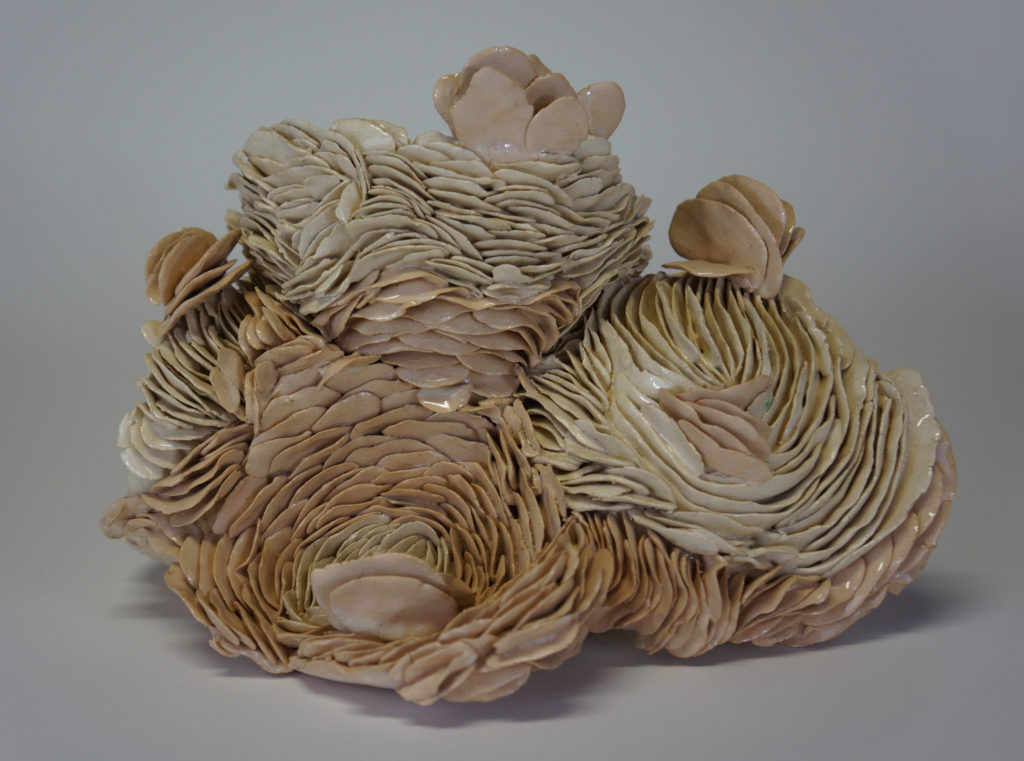 Rebecca Ho (she, her, hers) is a budding ceramicist whose goal throughout her work has been to articulate her voice as a Chinese-American. Born and raised in New Jersey, her path in ceramics started at the Art School at Old Church, where she developed her skills on both the wheel and in hand-building. After high school, she moved to Providence to major in Visual Arts and Biology at Brown University. Along with working at various studios in Providence, Rebecca spent a summer working at Greenwich House Pottery and hosted her first gallery exhibition at the Dwight Englewood School. Now a senior in college, her recent work has been dedicated to studying traditional East Asian forms and crafting pieces in homage to tradition while expressing her own identity.

Artist Statement
There exists an unsettling expectation that assimilation is the end goal for immigrants of color. I have experienced these pressures even in my identity as a second-generation Chinese-American. I am considered "white-washed" by traditional Chinese standards for my inability to speak Chinese and my non-Chinese attributes. Conversely, my Chinese qualities, both visible and behavioral, permanently bestow me with an "otherness" in American culture. There is a constant pressure to "pick a side", which stems from ethnocentric perceptions of identity. However, even in choosing an allegiance, it is impossible to avoid derision or contempt from people on both sides. There is no freedom to exist within these constructs
As a Chinese-American, my work reappropriates the confusion with Asian multiculturalism by depicting this confusion explicitly. I utilize traditional Chinese pottery shapes as the foundation for my pieces in homage to my heritage, but the surface treatment is fully unconventional in its implementation and presentation. In creating my pieces with references back to traditional East Asian forms but with the presence of my own contemporary signature, I aim to depict the beauty and the inherent otherness that comes with being a part of the history of immigration. Rather than deliver a perfectly distilled thesis about my self-concept, I present my own search, confusion, and battles with my heritage and the tension involved in being culturally liminal. The thought present in each of my pieces: I am not the Asian-American story, but I am part of the story of diaspora.
Where are you from?
New Jersey

What are you working on now?
I am currently working on a series of húnpíng (lit: spirit/soul). Húnpíng are funerary vessels that confront the understanding of life and death. Gōngshí provokes contemplation of many aspects of life, with meditation and aging being the two that I am pulled towards. Both of these forms incite circumambulation, introspection, and an invitation to confront the progression of life in a non-threatening way.

Who are your greatest inspirations? What work influences your work?
My parents. They are both physicians, and their dedication to their life's work pushes me to do the same. My dual interests in biology and ceramics have always influenced my work. I have always seen a biological growth aspect in my ceramics pieces, and the concept of growth has also spurred my current work in discovering my growth in my Chinese-American identity.

Where can people see/ buy/ or experience your work?
On my Instagram. I do not have a store open right now, but I answer direct messages 🙂

How did you find The Steel Yard? What were you doing before you joined the Residency Program?
I found out about the Steel Yard from a Visual Arts professor at Brown! Brown has no ceramics program, which has made it very challenging to practice my art as a student. During my first ceramics class last year, I met Tom Hubbard, a current ceramics resident, who told me about what being a resident means. One year later, here I am!

Have you ever taken a Steel Yard course?
I took a wheel course at the Steel Yard last year, spring 2020. The course was okay because I realized only when I arrived that the course was mainly for beginners, and I had projects/endeavors that I wanted to immediately start working on. Perhaps paying for open studio hours only would have been a better option. I feel so incredibly lucky to be a resident at the Yard!!

When you're not in the studio working- what do you do in your free time?
I am a full-time undergraduate student at Brown, studying biology and visual arts. When I am not in the studio, I have been on Zoom in class or doing readings and homework. I also love baking!
What are you MOST excited about this upcoming year?
Doing CERAMICS!!!

What do you think will be your greatest CHALLENGE?
My greatest challenge in the coming year will be finding a place to continue practicing ceramics. I plan to matriculate to medical school in 2022, so I see that I only have a limited time to really devote all of my time to ceramics before I go back to school. Being able to balance my art life and medical school (once/if I get in!) will be a whole challenge itself.
Favorite Food:
Pasta
Favorite movie/ TV Show:
Right now, "Blown Away"
Favorite Book:
The Tao of Pooh
Favorite artist/maker:
Helen Frankenthaler
What skill would you like to master?
Drawing
Favorite tool in the studio:
My DiamondCore tools
Annnnnnnd finally, is there anything else you'd like the Yardie community to know about you?
Being at the Steel Yard has quite literally been my dream come true. I am so thankful to be in this space every single day.