Interview with Studio Director, Ben Filchak
By Asaad Miller
---
I sat down with Ben last week to learn about how he came to The Yard, his involvement with The Steel Yard's annual Iron Pour event, and what visitors can expect from this year's performance.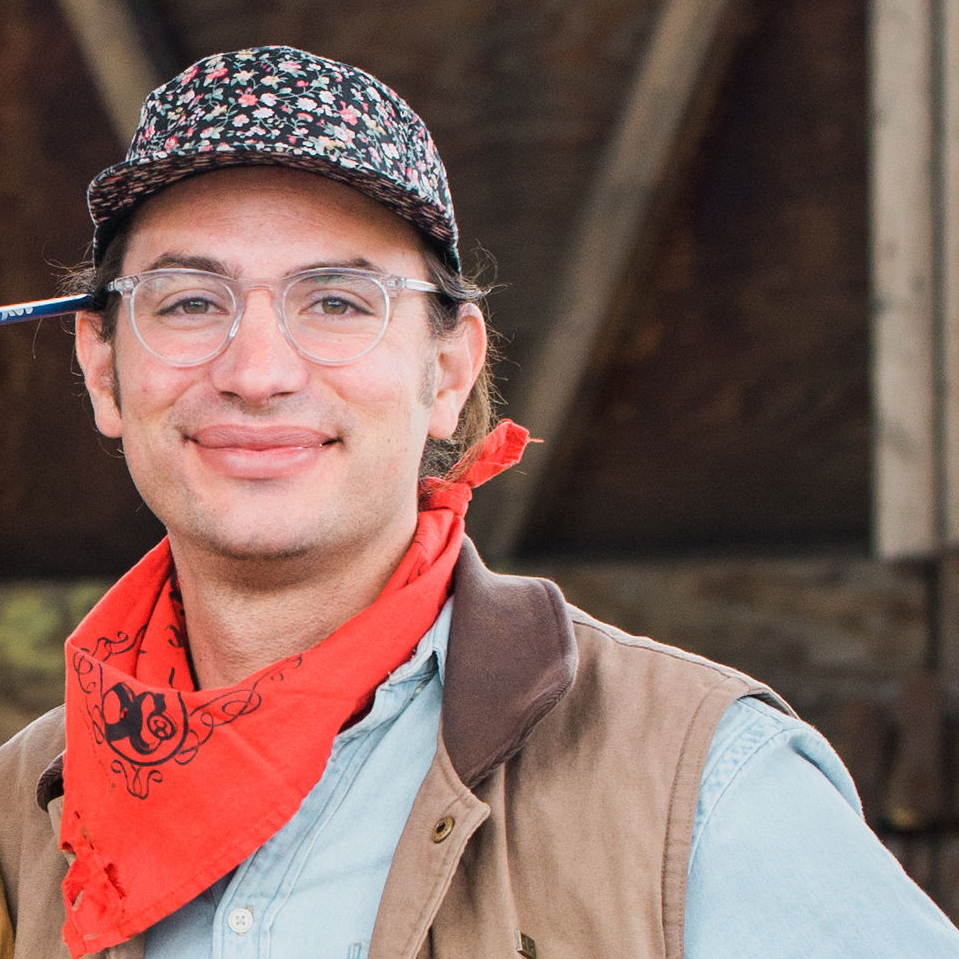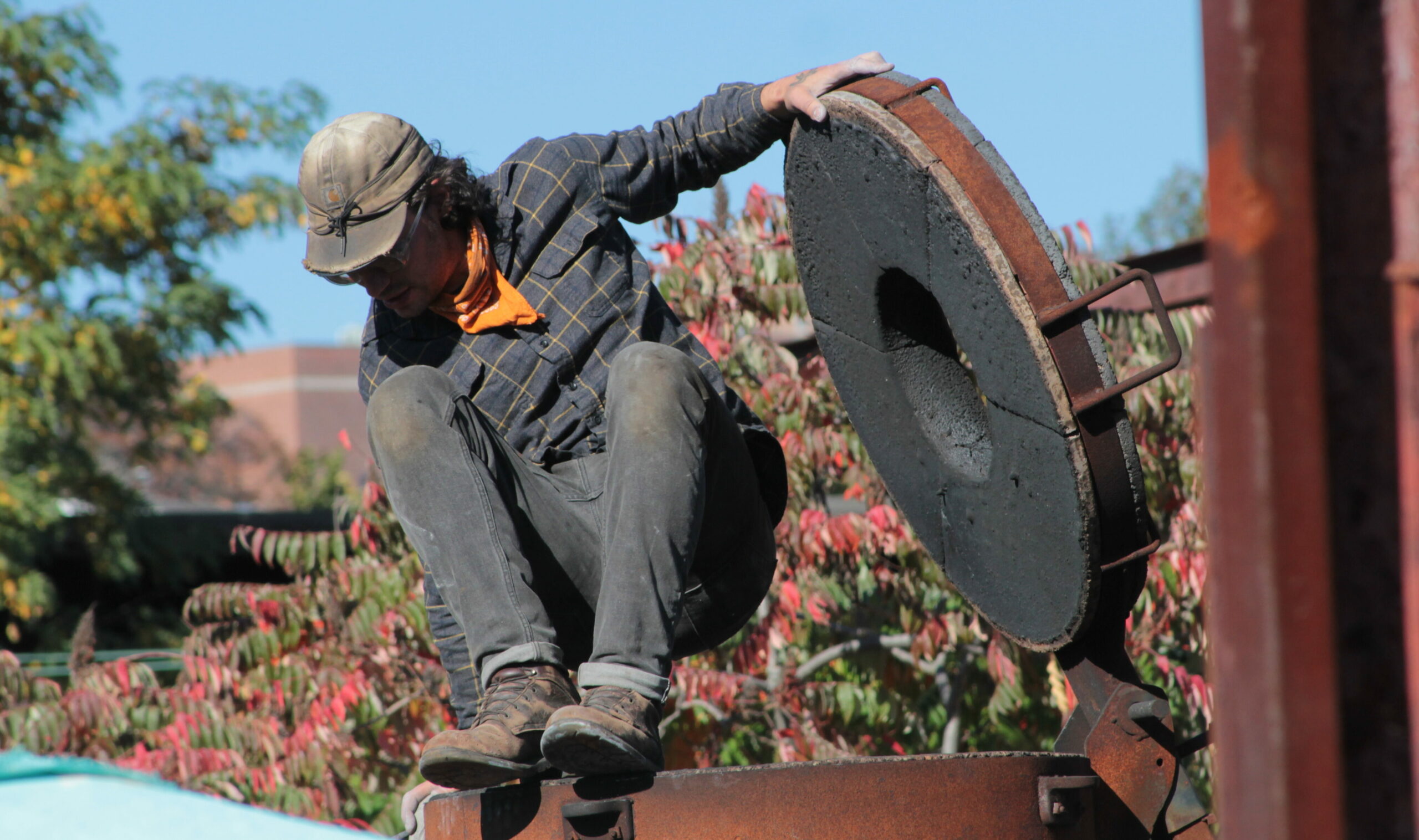 The Steel Yard (SY): What is your role at The Steel Yard?
Ben Filchak (BF): Well, specifically? Studio Director – but there is a little bit of a shop ambassador aspect thrown in there. Being one of the main people who can open the studio.
SY: So you're generally floating and seeing what people need?
BF: Absolutely. I'm all over the place – whether it's helping out artists, public projects, or contractors, I'm the person who has a finger on the pulse of the studio. I make sure that everyone has what they need while in the studio.
SY: What aspect of the studio are you most drawn to?
BF: I'm drawn to all of the aspects actually. I really appreciate how accessible the many aspects of the studio are! I definitely have a fondness for the blacksmithing shop. I love the tools, the forges, the kinetic process of creations. I might even say that I enjoyed making the forges more than blacksmithing itself! Its great being able to use so many materials, and everything feels so inherently custom. Additionally, its just special to create something that helps facilitate someone else being able to create.
SY: How did you first get involved with the Iron Pour?
BF: I actually started as a spectator! I went a couple of times, but at the "Monsters Take Over the City" pour, someone told me to apply for a position here. I had low expectations in terms of my qualifications, but I suppose they saw something in me that they wanted. Once I started working here, there was a bit of a lull due to some turnover, but Islay tasked me with learning about and figuring out the Iron Pour. I didn't know about the process, so I was excited to get involved with the details.
BF: I've always been interested in the artistic/ larger picture aspects of a project. In landscaping, I always wanted to plug myself in creative-wise, so that made me excited– all of a sudden, I was plugged into the creative side of designing and fabricating at The Yard. I got to explore the nuances of working with different materials, and The Steel Yard even helped me with professional development at StonybrookMASS in Jamaica Plain.
SY: How would you describe what the Iron Pour is, for those who don't know?
BF: At its core, I would say it is a festival of fire. We're melting down over 2000 pounds of iron! I love the evolution of where we're going with the pour now, and thinking about how to further center the celebration of fire. There's just something so captivating about generating that much energy, working with the element of fire, and the metamorphosis that it represents. Most people have moments in their life where they discover fire, play with it (sometimes when they're not supposed to); there's bonfires, controlled explosions, processes that connect to old practices– something that this site was originally used for! It's a really performative event, and the spectacle tugs on a through-line of fascination with fire that goes back centuries.
SY: What goes into the planning of an Iron Pour? When does planning start?
BF: The Iron Pour is never NOT being planned, if I'm being honest. We're always thinking about potential theming and what could make for an exciting event. Once we come up with a theme, we're then able to start Fab Nights – those originally came out of wanting more planning and community involvement with the Iron Pour– where we really hammer out the details with our volunteer artists, across a range of experiences. Closer to the pour, you really start to see how much engineering goes into making it all happen. The amount of prep work for both the props and the furnace is immense and very physically demanding, and we really couldn't do it without the help we get from our volunteers.
SY: You mentioned that figuring out the theme is always an exciting part of planning. What is the theme for this year's pour?
BF: The theme for this year's pour is "Industrial Gothic", which is great because there's a lot of room for interpretation. In previous years, we've done things with a Lovecraftian spin, which has been fine if a bit limiting. In going with Industrial Gothic, we can draw some good inspiration from the city itself – volunteers are making all kinds of ravens, corpse brides, trees, steepled houses, skeletons. The sculptures are all going to be dressed and covered, appearing one way, and then will go through a metamorphosis when the molten iron is poured through them.
SY: What's the most challenging aspect of the pour vs the most exciting aspect?
BF: The bow at the end of the show is honestly the most exciting part– the bottom of the furnace drops out, and there's thundering applause. It indicates that we had a successful iron pour, that no one got hurt, and that everything went according to plan! It's extremely demanding of your attention when you're involved, so I can forget that there's 1500+ people until I look up at the end of the performance. So it's a fun surprise to realize you're being cheered on by this crowd of engaged people. On a personal level, I haven't felt more joy than when pulling the ripcord inside the dino's head at the dinosaur theme pour, making an explosion 20ft in the air and having people absolutely lose it.
SY: What Iron Pour theme has really stood out for you?
BF: The dinosaur one and the deep sea theme were really amazing! We really figured out some cool ways of making a performance– some intentional, some were more of a happy accident.
SY: Is there a theme you want to see for a future pour?
BF: I really want to see something related to space. There's a lot to work with there– it can be fun and silly, or more spooky. Pigs in space? Dog astronauts? So many options there.
SY: Alright – final question: Catfish or Dogfish?
BF: Hmmm–Probably catfish. My brother has a cat named Catfish. I also had two catfish as pets. I love them both, but you can't go wrong with a catfish.