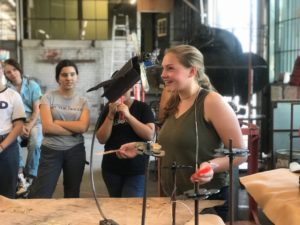 Last week, after months of restorations and updates to the studio building, we welcomed our amazing partners at the Lincoln School back for a one-week educational partnership!

This year we had amazing students in the welding and jewelry departments for five full-day sessions. Each participant created a piece of work but most didn't stop there, many created multiple final projects which culminated in a final show and tell at the end of the program!

The welding students, instructed by Isabel Mattia and Amber Dauphinee, walked away with experience MIG welding, using the acetylene torch, plasma cutting and grinding.

The jewelry students, instructed by Alison Brunn, learned to solder, use the drill press, hammer, and saw and file.

Individuals, schools, non-profit organizations, and businesses are invited to work with The Steel Yard to create a unique Educational Partnership. Educational Partnerships feature a workshop or class whose curriculum is customized to meet your goals, and enrollment is exclusive to your group. Whether you're a family who wants to learn to weld together on a weekend, a group of friends who want to delve into ceramics for a couple of evenings a week, or a high school that wants a special program for juniors to experience blacksmithing in the summer, we're here to help you make that happen.

How's it work?

Step 1. Make a request
All Education Programs start with a conversation, contact courses@thesteelyard.org and let's get started!
Step 2. Consultation & Paperwork
We discuss your request with you, provide a cost estimate and then draft up the contracts
Step 3. Planning

We'll work with you to ensure that your program is custom-designed to meet your needs.