Interview with Lucia Perluck
current Client relations manager
---
Lucia Perluck (she/her) is a trained jeweler/metalsmith who lives in Olneyville. She has spent the last five years running her own small jewelry business, and comes to the Steel Yard with design, fabrication, and administration experience. Lucia is excited to bridge her interests in craft and community building by working closely with our clients and the public projects team. She has expanded her knowledge about her craft through artist residencies abroad- both official and self-guided- in Fez, Morocco and Mexico City. Lucia recently moved her practice back home to Providence, RI, where all of her work is currently handmade in her downtown studio.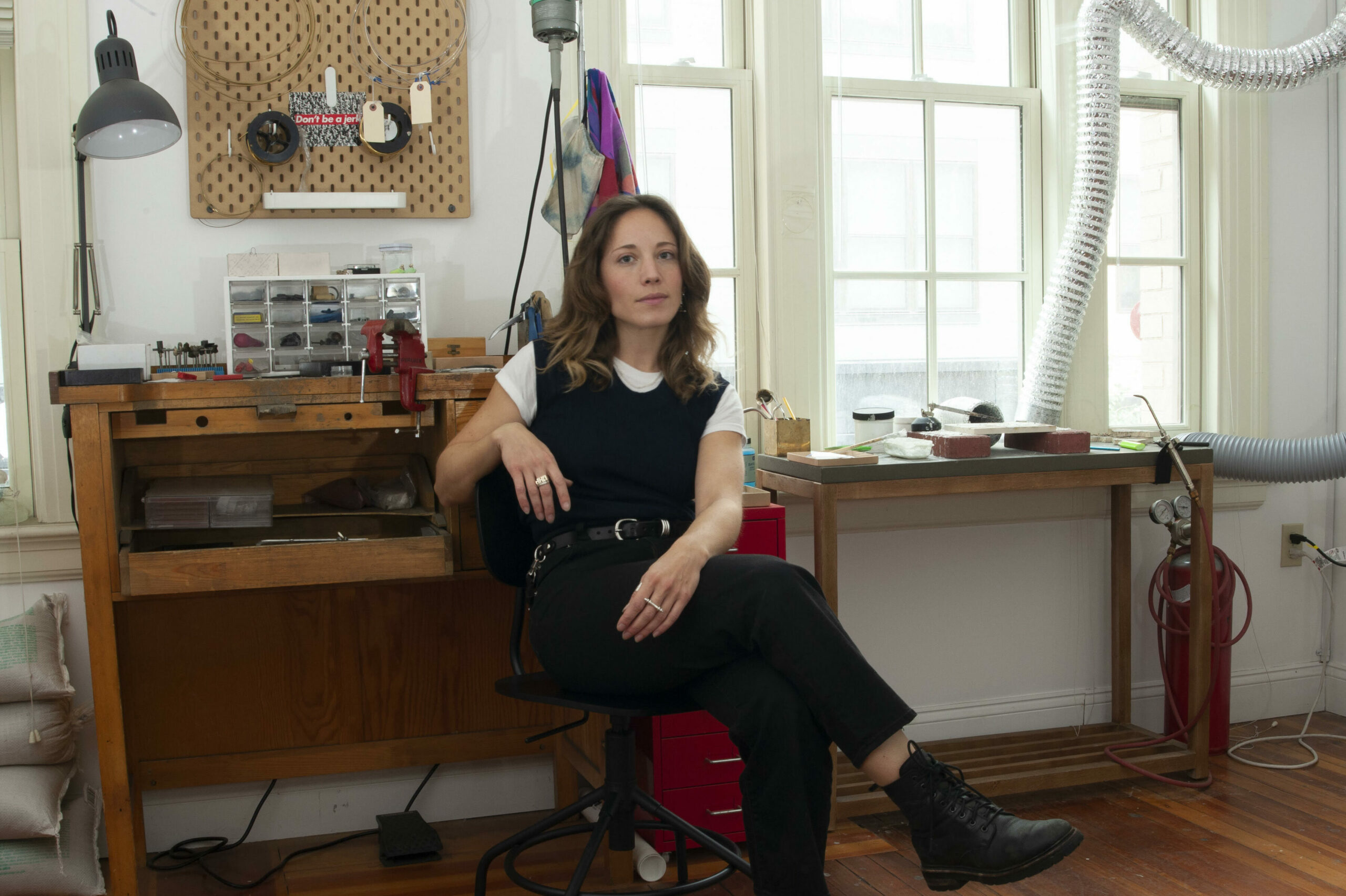 SY: Lucia! Hello! To get us started, what is your title here at the Steel Yard and when did you start?
LP: Hi! My title is Client Relations Manager and I started this past November (2021).
---
SY: Okay, so you're a recent addition to the Steel Yard! As far as you understand it, what does your job entail?
LP: Basically, I am responsible for all of the comms that takes place between people who have public project jobs that they would like to see come to life. Those people contact us, and we set up a meeting to discuss the details of the project: budget, vision, placement, etc. Throughout that process, we write up estimates, hire artists for the project, connect with the fabrication team, and so on.
SY: Okay, so you're the point-person when in comes to interfacing with people and organizations in regards to potential public projects?
LP: Exactly.
SY: Given that you're somewhat recent to this position, what were you doing before you came to the Steel Yard?
LP: So before, I was running my own business, which I still do on the side! I have a small line of jewelry that I make and sell, in addition to custom pieces. I mostly sell through my website (luciapearl.com), with the occasional market or pop-up being something that I also do! I still have my studio practice, but I'm kind of doing it as a side gig now – which is kind of how I like it?
SY: So I imagine that maybe feels less stressful, being able to frame your practice as a side gig?
LP: Definitely! I tried to use the last two years to make the jewelry work as a full time occupation, but given the pandemic and everything else, it was a little difficult to gauge if it was paying off in the ways I would have wanted. It ultimately worked out, but it was definitely stressful at times.
SY: Do you think there are any ways of thinking or processing about that carry over from your time as a jewelry maker to your current position? What parallels are there between the two, if any?
LP: That's a great question! I didn't think there was anything parallel about it, but now that I've been in the position for a little while, I'm realizing that it's really similar to the custom work that I've done– it's a similar process in that [in jewelry making,] someone approaches me for a job, they have a vague idea of what they want, but they're looking for more creative input. We then would go through the same process as I do here at the Steel Yard: we write estimates, solidify contracts, and move through the actual process of making the piece. So that's been really transferable!
SY: Has that made the transition to focusing more on Steel yard projects easier to manage?

LP: I think so! I've also just used a lot of Google Sheets in my personal work, and thats what we use here too, so I'm really familiar with that the back end side of things.
SY: We love Google Sheets.
LP: Absolutely agree.
SY: What projects would you like to see come to the Steel Yard/ What would you be excited to take point on?
LP: Thats a good one – While I cant say much because I haven't been around long enough to see a whole project through, I'm most excited about the events coming to the Steel Yard! We're planning a little party for June which will be coordinated around SNAG, this conference for metal workers and jewelers! It'll be cool to coordinate that with all of the music, sales, drinks, and talented people! I think its really great getting to know the community– part of my job is finding new clients for the Steel Yard, and that allows me to go down the street to somewhere like Binch Press and talk about the need for bike racks and other projects. It feels great to be able to build connections with our neighbors and other local businesses.
AND NOW FOR SOME EASY QUESTIONS
BOOKS YOU'VE BEEN ENJOYING?
I'm really enjoying Another Country by James Baldwin and The Argonauts by Maggie Nelson!
RECENT MUSICAL ARTIST YOU'VE BEEN LOVING?
As of Friday night, I fell in love with this singer Fatoumata Diawara from Mali! I saw her at Carnegie Hall this past weekend! Her voice and presence is just incredible.
DO YOU HAVE ANY PETS? FOR THE RECORD, I ALREADY KNOW THE ANSWER
I thought you'd never ask! Yes, I have a pet, her name is Purrl and she's a geriatric cat that I adopted last year. She's lovely – what else can I say? She's very vocal, and I'm always covered in white hair.
GOT A FAVORITE ROCK OR METAL?
I feel like I should know rocks, but I don't. As for metals, silver is my favorite, for sure– its definitely the most comfortable to work with. Working with gold just puts me on edge– it's expensive!
GOT A RECENT SHOW YOUVE BEEN ENJOYING?
I've been watching Euphoria– it's been stressful, but I cant quit.
WHATS YOUR FAVORITE BEACH IN RI?
I don't know if everyone says this, but my favorite is Beavertail!
FAVORITE PLACE YOU'VE TRAVELLED?
I really loved Mexico. I spent 15 months there in the beginning of 2020!
WITH NO CONTEXT: FORK OR A SPOON?
No context?! I say spoon. I'm very particular about spoons though: I love having different shaped spoons for different tasks. Forks are just forks.